Current Version: 0.4 BETA
News
November 2, 2009 – Fixed a bug which could halt assembling the executable if running with Unicode version of wxPython.
September 1, 2009 – Fixed a few problems not recognizing win32com and pythoncom not being installed.  Also fixed a fatal build error when using a Python version other than 2.5.   It should now work with any version of Python.
Description
A complete build environment for pygame-based Python projects.
Pygame Package Builder's aim is to be a complete build automation environment for pygame-based projects. The system can be used from 2 programs: the GUI (built using wxPython) to create automation project files, and the command-line utility which can use the same project files. Both can perform builds.
The principal purpose of PPB is to take a lot of the guesswork out of writing custom build scripts for pygame projects and gives the optimal output.
Requirements
This beta release requires a minimum of the following:
Python 2.5.1 or greater
Distutils
Py2exe 0.6.6 or greater (optional but recommended)
wxPython 2.8.0 or greater
psyco (optional but recommended)
win32com and pythoncom for Windows (optional but recommended)
Installation/Use
To start up the GUI for PPB, go to your shell/command line at the installation folder and type:
python -OO pygame_builder.py
Windows Users: In the Options dialog (Tools->Options…) on the Help tab, there is a button which will create a shortcut on your desktop to launch PPB.
Screenshots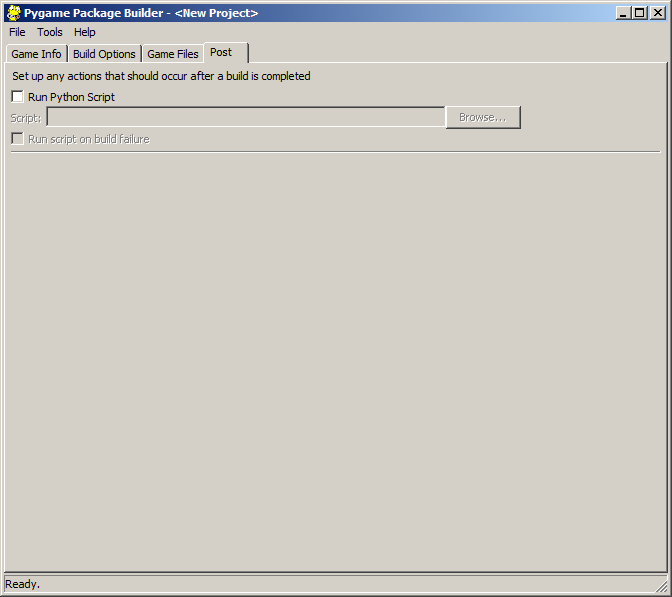 Download
Download the source here to get started: Pygame Package Builder 0.4 Beta Source Code
Feedback
Constructive feedback, bugs, or suggestions on PPB are welcome. Since it is a moderately complex application, I will try my best to make sure that everything works.
For now, leave feedback below.  That way I can keep track of who, and when. If I get a lot of feedback or others that want to join in helping make PPB better, I will move PPB off here to Sourceforge or Freshmeat.
Todo
Obviously not everything could be completed, although I did try hard to make sure everything in this release got in there. Most of the features and code that are needed deal with cross-platform capabilities.
TODO LIST (in no particular order):
Formalize and add support for OS X and py2app as a target for builds. This would then allow you to build your projects on one platform for both Mac and Windows simultaneously. Since I do not own a Mac, this might be problematic for me.
Make a binary-only release of PPB. This is low priority at the moment since PPB is a developer's tool and not an end-user application.
More complete help files/multiple help file output sources for different platforms.
16 thoughts on "
Pygame Package Builder

"